Especially at the beginning, "Kajillionaire" is reminiscent of the films of Wes Anderson – when, for example, the family of three crooks repeatedly sneaks crouched past a site fence to escape their landlord who is waiting for his money. Or when Old Dolio (Evan Rachel Wood), who only got her unusual name because she wanted to swindle the inheritance of a homeless lottery millionaire, "invades" the local post office with a completely absurd course choreography – only the coup is not about casino millions as in "Ocean's Eleven", but about a few random letters and packages, which usually contain nothing of value either.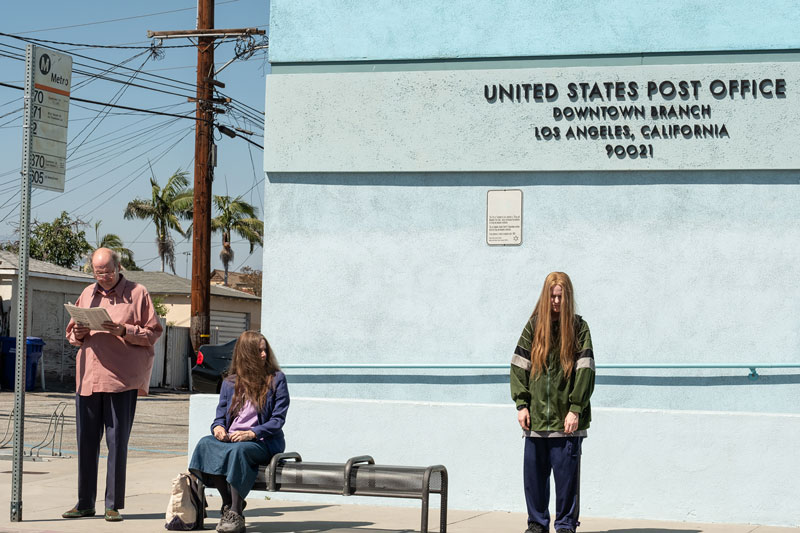 The first picture alone shows that this is an indie film. The orange bus stops in front of the baby blue post office building. As soon as the passengers have gotten off, the family trio can be seen raiding that branch. Not a big coup, but rather small trick thefts, in which packages are plucked from lockers. The contents usually turn out to be small and nasty. It's amazing how Miranda July and her actors create moments of warmth in the midst of the bizarre events, even if, as a viewer, you can never be sure that they are meant seriously – after all, this is about con artists. Such a scenario, which despite its absurdity goes to the heart, has to do with a dying man, for example, who only wishes the "burglars" would make noises in the kitchen as if a family still lived in his lonely house.
The film is an ode to genre cinema, in which small-scale scams and swindles are always the focus of attention. But this happens rather superficially. Instead, July remains true to her slice-of-life stories when she is more concerned with the characters and their relationships with each other. Initially, "Kajillionaire" is even more about how a few outsiders have to slowly and reluctantly come to terms with the realities of life. As nice as it is natural to be able to say of oneself that one is different from the rest, more cunning, more honest in one's own way: At some point, however, the point comes when unpaid rent becomes a problem and leads to possible homelessness. Even anti-capitalists cannot do without money completely.
But "Kajillionaire" is not a social drama, even if the theme is. Instead, the focus shifts increasingly: It is not the racketeering, the fight against norms, that is in focus, but Old Dolio, who realizes through the appearance of Melanie (Gina Rodriguez) that she longs, at least in part, for these very norms. For a life as others have it, with words of endearment, pancakes and small gifts. This is actually tragic, just as sad moments happen in other places. One key scene, which brings together the contradictions of normality, appearance, deceit and a longing for closeness, is even heartbreaking, one of the most emotional scenes to be seen in cinema this year.